Terminating provisioned resources
---
What are we going to do?
This tutorial will walk you through how to use the "Terminating provisioned resources" feature.
We will assume you have:
installed Service Catalog Factory correctly
installed Service Catalog Puppet correctly
bootstrapped a spoke
created a manifest file
added an account to the manifest file
provisioned a resource - either through a stack, app, workspace, launch or service control policy
We will assume you are comfortable:
making changes your manifest file
We are going to perform the following steps:
terminate a provisioned resource
Step by step guide
Here are the steps you need to follow to "Terminating provisioned resources"
Terminate a provisioned resource
When you are ready to terminate a provisioned resource you will need to edit its definition in the manifest yaml.
Navigate to the ServiceCatalogPuppet CodeCommit repository

Click the ServiceCatalogPuppet repository

Click the link to the manifest.yaml file, and then click the Edit button

Add or set the attribute status for the resource you want to terminate to terminated

Example "stack" resource deletion:
Example "launch" resource deletion:
Example "service-control-policy" resource deletion:
Please note terminating a service control policy will detach it from the target but it will not delete it.
Committing the manifest file
Now that we have updated the manifest file we are ready to commit our changes.
Set your Author name
Set your Email address
Set your Commit message
Click the Commit changes button: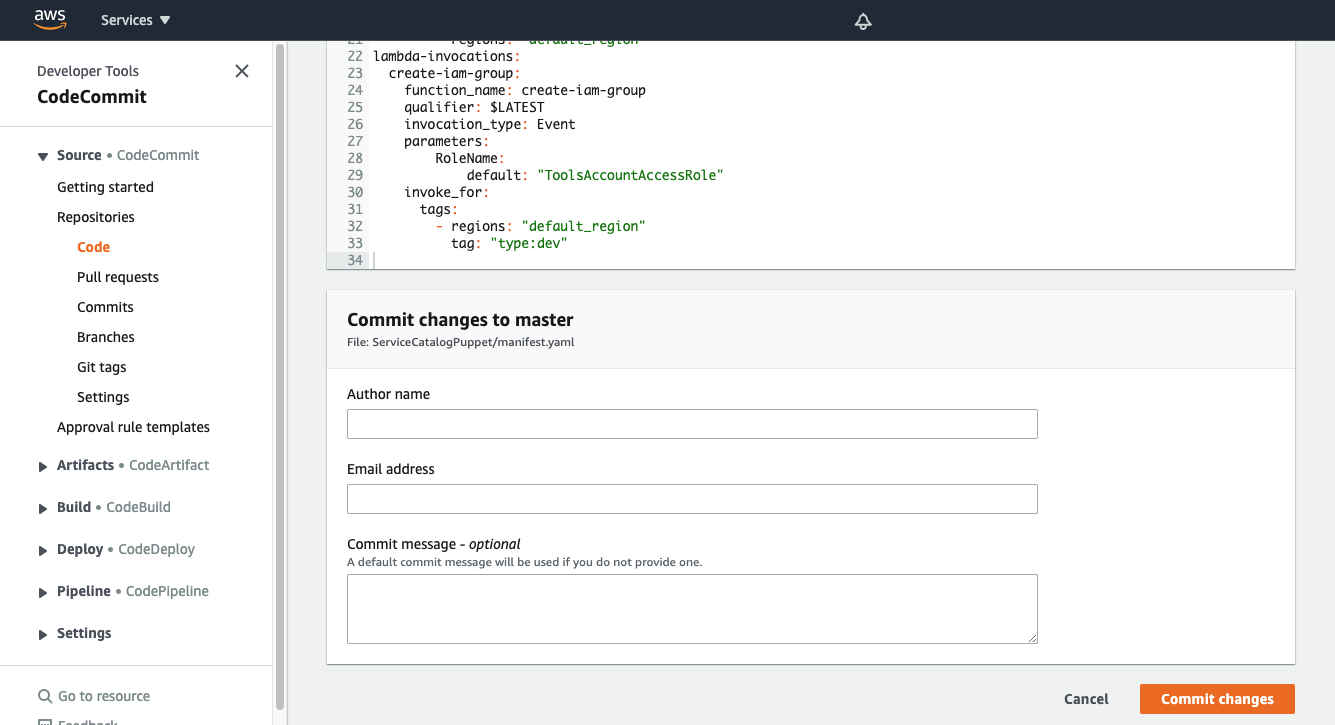 When the framework runs, the provisioned resource in the target account will be terminated.
You can verify this by navigating to the target account and checking the termination of resource.
Notes
You can set the status attribute to "terminated" for the following resources actions to terminate the resources previously provisioned:
launches
stacks
workspaces
apps
If a resource was previously terminated by the solution in future executions the solution will verify the resources are terminated.